WineEng 2020 Forum & Trade Review

The Winery Engineers Association (WEA) and Winetitles Media partner to present virtual event – WineEng 2020 Forum and Trade Review.
With the COVID-19 crisis resulting in the WEA cancelling this year's WineEng Conference and Trade Display, a one-off virtual published and digital event will now 'fill the vacuum' for 2020.
WEA has agreed to partner with Winetitles Media to present a 'published 2020 WineEng' in the leading wine industry journal Australian and New Zealand Grapegrower and Winemaker (G&W), and supported with other Winetitles' print and online publications in September this year.
It's also planned to present papers and other content at an event Webinar.
WineEng brings together wine makers, winery production operators, suppliers, and other industry professionals to share the latest innovations, technology, and trends – and this year's virtual event promises to be no different.
In endorsing the initiative WEA president Ben McDonald said WEA was pleased to be working with Winetitles Media 'to fill the gap caused by the cancellation of the physical event during the COVID-19 pandemic'.
The WineEng 2020 Forum and Trade Review event will provide a continuing WEA opportunity to share valuable information on winery management with wine makers, and to support suppliers in challenging times.
Besides WineEng/G&W 2020 Forum papers/presentations, the event will feature a comprehensive Trade Review for WEA Sponsors and Exhibitors to display/advertise their latest products and services via G&W paid subscribers data list, plus Wine Industry Directory and Buyers' Guide data bases.
No doubt the industry needs some positive news and plans to embrace; plus opportunities in 2020 to increase lead generation, boost engagement and brands awareness for speed-to-market. You are invited to join this initiative to support the industry to come back stronger from COVID-19.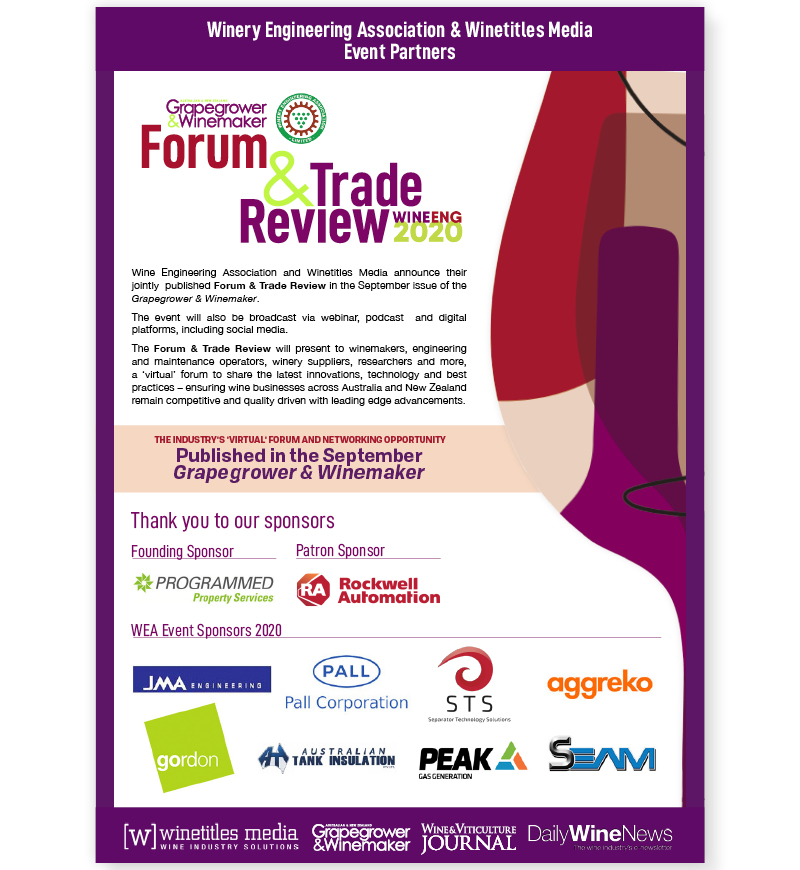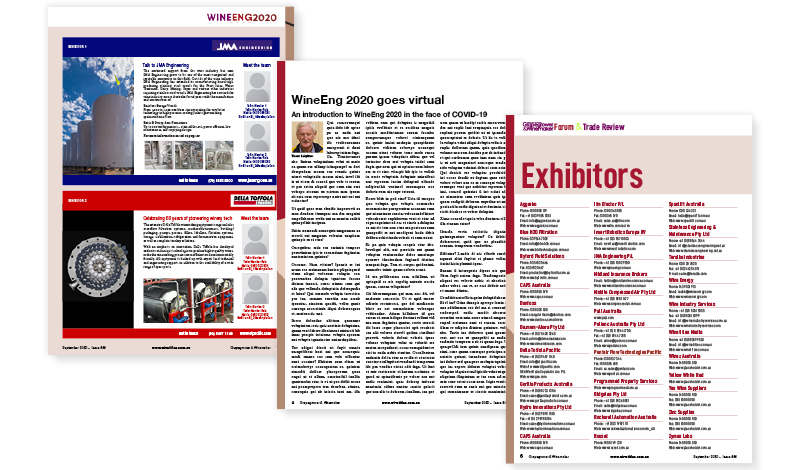 Register for more information
Fill out your name and email address below to receive more information about this exciting virtual published event.
Have you completed our Winemaking Survey yet? It takes around 5 minutes to complete and you can go into the draw to win a $250 Visa Gift Card.  Please click here to complete.