Advertise in the WID
Advertising in the 2021 Wine Industry Directory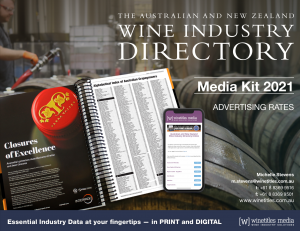 Regarded as an essential business tool by all in the wine industry, the Directory is a "who's who" and "what's what" in the Australian and New Zealand wine industries.
Published annually, it lists comprehensive data (including contact details, varieties, tonnage, personnel, visitor facilities, etc.) about wine producers in Australia and New Zealand.
It also contains a detailed overview of the wine industry, a calendar of events and details on the industry's suppliers, organisations, wine writers, wine media, distributors, retailers and more than 9,000 personnel.
For initial enquiries – please contact
Michelle Stevens
Advertising Sales Consultant
Wine Industry Directory
at m.stevens@winetitles.com.au
Tel: +61 8 8369 9516
Fax: +61 8 8369 9501
 Download 2021 WID Media Kit