Current Issue
Australian & New Zealand Grapegrower & Winemaker
Current Issue – October 2019 (no. 669)
Grapegrower & Winemaker provides subscribers with access to an online version of each print issue.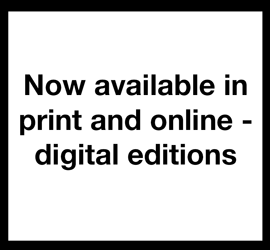 The theme of the October Grapegrower & Winemaker is 'Threats and disruptions to Australia's wine industry'. Journalist Brendan Black explores three potential disruptions to the nation's wine industry — namely the arrival of Amazon in the local retail wine space, cannabis-infused wine and synthetic wine — whlie four members of industry share their thoughts on the industry's biggest threats.
Regular writer Ben Rose calls on growers to start planning for the upcoming harvest period now, outlining the steps growers can take to significantly reduce the stress that often comes at vintage time.
Journalist Hans Mick also delves into the small but rapidly growing number of vineyard operators employing the Simonit and Sirch pruning technique.
We also look at the effects of the common fining agent PVPP on specific polyphenolic compounds found in rosé wine, Henschke senior winemaker Paul Hampton talks to Hans Mick about the Hill of Grace vineyard and the role that oak products play in the winery's prized Shiraz, and journalist Eleanor Danenberg looks into the grower of the vegan-friendly wine market.
And we respond to industry feedback for more information on the subject with the introduction of a new regular column on succession planning for family-owned wineries, written by law firm Finalysons.
Features
WineEng2019: Sharing knowledge and innovation
Business as usual? Potential disruptions to the Australian wine industry
Taking the stress out of vintage
A molecular breakdown of PVPP interactions with polyphenolic compounds
The declining appetite of insurance underwriters and what you can do about it
News
ACCC releases final report on winegrape market study
Nuffield scholar to investigate new and emerging irrigation methods
2019 Australian Women in Wine Awards winners
International briefs
Our view: the wine industry's biggest threats
Regulars
What's online
In this issue
Winetitles Insights
Wine Australia: R&D at work
Young Gun: Sophie Harris
Ask the AWRI
Producer profile: Geoff Hardy
Looking back
Calendar
Marketplace classifieds
Grapegrowing
AI for early onset powdery mildew diagnosis coming to your smartphone
Laser technology solves bird problem in winegrape industry
Are birds wreaking havoc in your vineyard?
Simonit and Sirch: challenging conventional pruning methods to improve vine health
Langhorne Creek floodwaters provide vines with more than just a good drink
Winemaking
Back to the future with oak at Henschke
Advancements in variable speed drive technology for reducing operational risk
Eliminating risks in wastewater pumping
Behind the top drops: Cloudy Bay Sauvignon Blanc
Business & Technology
Succession planning for family-owned wineries: Business structures
Rare and well done: an insight into vegan wine
Rothschild and Constellations' Opus One sues in US over tainted barrels
Sales & Marketing
Taylors portfolio refresh goes beyond the bottle with augmented reality
90 How wineries can stay ahead of the game with aligned website and social media strategies
2019 Back Issues
2018 Back Issues